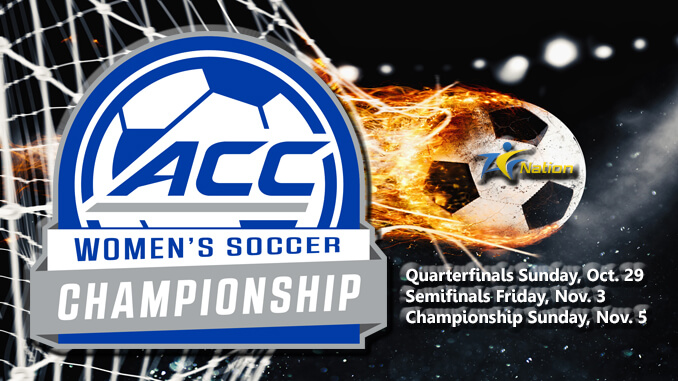 ACC Women's Soccer Championship
The 2017 ACC Women's Soccer Championship gets underway with quarterfinal action on Sunday, October 29. Higher seeded teams will play host to games in the opening round of play this weekend.
Duke wrapped up the regular season ACC title with a 10-0-0 conference record and 17-1 overall. Duke is the first team since 2013 to go unbeaten and untied in the conference.
As the top seed in the championship Duke will face off with 8th seed Boston College in Durham.
The 2nd seed, North Carolina hosts 7th seed Florida State, 3rd seed NC State entertains 6th seed Notre Dame and 4th seed Virginia will face 5th seed Wake Forest in other quarterfinal play.
Six of the eight teams competing for the ACC Championship are ranked in the United Soccer Women's Top 25.
---
ACC Women's Soccer Championship
---
Sunday's games will begin play at 1:00p E and coverage is available via ACC Network Extra.
The winners will advance to semifinal action at MUSC Health Stadium in Charleston, South Carolina on Friday, November 3. Game times are 5:30p and 8:00p E with coverage on the ACC's Regional Sports Network.
The championship will be Sunday, November 5 at 1:00p E. Coverage will be on ESPNU.