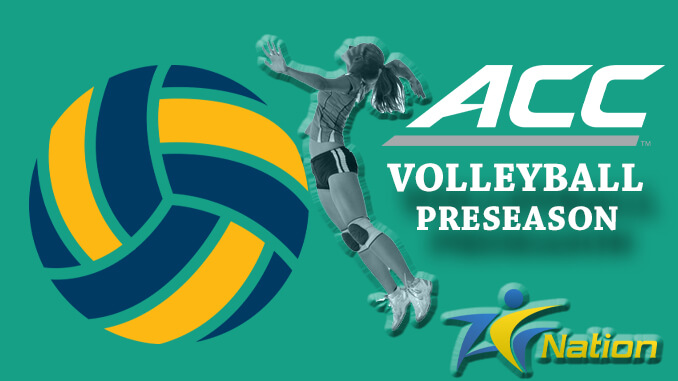 ACC Volleyball Preseason Coaches Poll
The 2017 ACC Volleyball Preseason Coaches Poll indicates the conference's coaches aren't in doubt when it comes to a favorite this season. There does appear to be potential for a scramble for position in the middle.
Last year's ACC Champion, North Carolina, brings back 11 players off the 2016 NCAA Regional Semifinals team. That, for the moment, puts the Tar Heels comfortably in the driver's seat of the conference.
The voting by conference coaches would indicate that the teams ranked two through six should not be slept on this season.
This year's preseason American Volleyball Coaches Association (AVCA) picks are slated for release next week. Last year, only three teams from the ACC cracked the AVCA Top 25. North Carolina, Florida State and Louisville started off in the 2016 rankings before the Cardinals dropped out. Pitt flirted with the Top 25 but couldn't find the magic to make it happen.
The Tar Heels peaked at #6 and finished at #11 by the end of the year. Florida State finished at #13 in the poll.
---
ACC Volleyball Preseason Coaches Poll – The Rankings
---
North Carolina
Florida State
Pitt
Notre Dame
NC State
Miami
Duke
Louisville
Georgia Tech
Syracuse
Wake Forest
Virginia Tech
Virginia
Boston College
Clemson
---
ACC Volleyball Preseason Coaches Poll – NCAA Players To Watch
---
Players to keep an eye on in the ACC this season include Taylor Leath of North Carolina. Leath was named to the AVCA All-America Second Team last season. Picking up AVCA Honorable Mention All America honors in 2016, the Seminoles' Milica Kubura, the Hurricanes' Olga Strantzali, the Tar Heels' Julia Scoles and the Panthers' Stephanie Williams. These five players return this season and are picks on the Preseason All-ACC Team.
---
ACC Volleyball Preseason Coaches Poll – 2017 All-ACC Team
---
Leah Meyer, Duke
Milica Kabura, Florida State
Gabriela Stavnetchei, Georgia Tech
Tess Clark, Louisville
Molly Sauer, Louisville
Olga Strantzali, Miami
Haley Templeton, Miami
Taylor Fricano, North Carolina
Taylor Leath, North Carolina
Julia Scoles, North Carolina
Bree Bailey, NC State
Julia Brown, NC State
Sam Fry, Notre Dame
Carolina Holt, Notre Dame
Kamalani Akeo, Pitt
Stephanie Williams, Pitt
Santita Ebangwese, Syracuse
Kylie Long, Wake Forest
---
ACC Volleyball Preseason Coaches Poll – The Season
---
Some early action gets underway this month (August) with the meat of team schedules beginning in September.
Keep up with conference sports on ACC Nation Podcast. Be sure to subscribe and receive automatic updates for free.