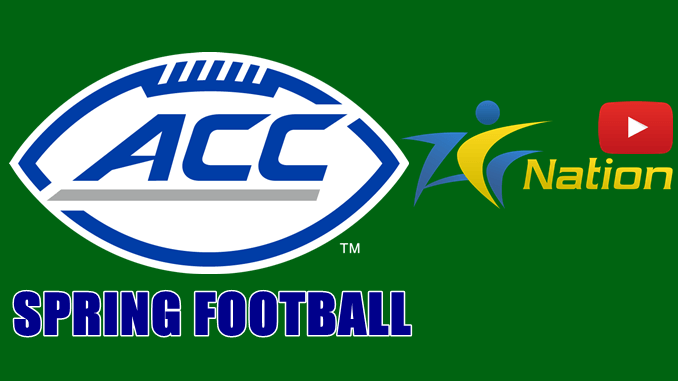 ACC Spring Football Highlights
Go ahead and admit it, you're in need of a fix and we've got ACC Spring Football Highlights to help you out.
That basketball thing is just about out of your blood. Baseball will keep you together for a bit. But hey, you know, ACC Football, you can't get enough of it.
So we're going to be touching base with teams as they gear up with the Spring action to give you a taste. Just enough to get you ready for the late summer kick off of another season.
Are you ready for some football?
Out of the gate, Notre Dame's Defensive Coordinator Mike Elko and Safety Drue Tranquill mic'd up.
A look over the shoulder as Boston College steps out with Irene for a little workout.
Louisville's Mike Summen, Co-Offensive Coordinator/Offensive Line, Nathan Scheler, OL and Jawon Pass, QB wrap up impressions of Spring Football.
Virginia Tech Head Coach Justin Fuentes says, he's not so much worried about his quarterbacks (three are competing for the starting position) as he is the supporting cast.
How are things coming along with the National Champion Clemson Tigers? Let's let Dabo be Dabo and explain how spring practice is coming along.
Nole Insiders talk about the first spring practice and Jimbo Fisher's thoughts.
Syracuse head coach talks to the media about spring practice and says he'll adjust and tinker.
How's Pitt looking? Head Coach Pat Narduzzi talks about spring practice.
What can Georgia Tech bring this year? Paul Johnson says the goal is the same. Win an ACC Championship.
Did we miss anyone? Unfortunately, yes. Not every team has video posted but as soon as it is, we'll share it with you.
---
How Much Longer?
---
The first game for an ACC team is August 31 and you can find out who, along with the entire 2017 ACC football schedule here.