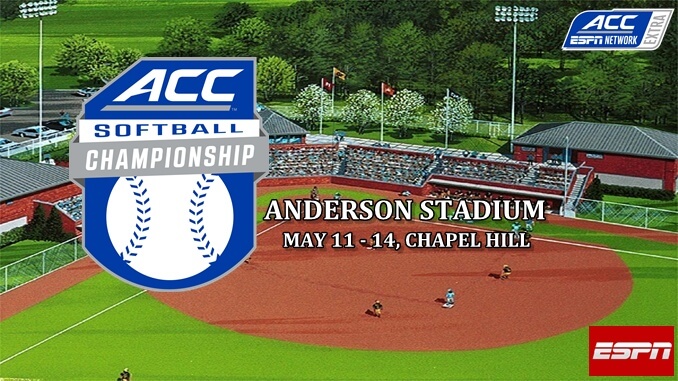 ACC Softball Championship
The top eight regular season teams will get a shot at winning the 2017 ACC Softball Championship, May 11-13, in Chapel Hill.
The defending ACC Champion, Florida State, brings a perfect conference record to the table this season. And, with that, the Seminoles earn the top seed in this year's tournament.
Virginia returns for the first time to the ACC Softball Championship since 2014. The Cavaliers will face off with Florida State, Thursday at 11:00a E.
The fourth seeded Boston College Eagles meet fifth seeded Notre Dame on Thursday at 1:30p E. The Irish are up 2-1 in their regular season series.
The second seed, Louisville will face seven seed NC State with the game set for 5:00p E. The Wolfpack are looking for revenge as the Cardinals swept their regular season series.
North Carolina, the host and seeded third, will wrap up the opening day with a game against sixth seed Syracuse at 7:30p E. The two game regular season series was split between the Tar Heels and Orange.
There's plenty to think about among the other seven teams in the tournament and each have one question on their minds.
Could Florida State be vulnerable coming into the Championship? Be sure to read the story at the link below to see why.
---
NFCA Softball Top 25
---
Games on Thursday and Friday will be available on Regional Sports Networks and/or ACC Network Extra.
The ACC Softball Championship, on Saturday, will air on ESPN.