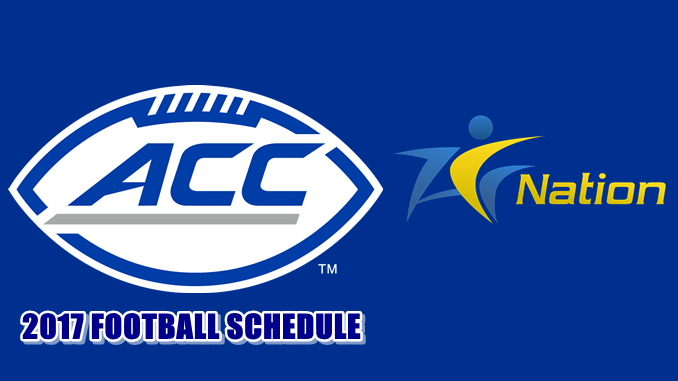 ACC Releases 2017 Football Schedule
ACC Releases 2017 Football Schedule and conference teams will face more Power Five non-conference teams this year than any other P5 conference.
With Clemson winning the 2016 National Championship, the conference has won two of the last four. The Tigers are ranked at #5 in the ESPN, Way-Too-Early Top 25.
Florida State, the other title holder from the ACC, is ranked in early polling at #2. The Seminoles will face #1 Alabama at the Chick-fil-A Kickoff Game in Atlanta, September 2.
Other ACC teams preseason ranked include Miami at #16, Louisville at #18, Pitt at #22 and Virginia Tech at #24.
Opening weekend games will include Georgia Tech vs Tennessee on September 4 in another Chick-fil-A Kickoff Game in the Atlanta.
In the Belk College Kickoff Game in Charlotte, NC State will face off with South Carolina in an ACC vs SEC matchup. The game is slated for September 2.
There are a total of nine ACC vs SEC games on the schedule this year.
A great rivalry game opening weekend features Virginia Tech and West Virginia. The teams will play at Fedex Field in Landover, Maryland on September 2.
A total of five opening weekend games will be played at neutral sites.
Boston College will play UConn at Fenway Park in Boston later in the season.
The continuing agreement between the ACC and Notre Dame has five teams from the conference going head to head with the Irish.
Three are homes games while two teams, NC State and Wake Forest will travel to South Bend.
Early

Hot

Picks
Following a solid 2016 season followed by a National Championship and 11 Bowl Games, the schedule presents an exciting slate of matchups.
It's never easy to select the best games of the season this early. We will venture as far as week three of the schedule.
Here are a few of the games we think will be interesting.
WEEK ONE
Florida State vs Alabama
Georgia Tech vs Tennessee
NC State vs South Carolina
Virginia Tech vs West Virginia
WEEK TWO
Boston College vs Wake Forest
Clemson vs Auburn
North Carolina vs Louisville
Pitt vs Penn State
WEEK THREE
Boston College vs Notre Dame
Florida State vs Miami
Clemson vs Louisville
Georgia Tech vs UCF
Pitt vs Oklahoma State
Here's a link to the 2017 ACC Football Schedule for individual teams and the team logo, week by week layout.