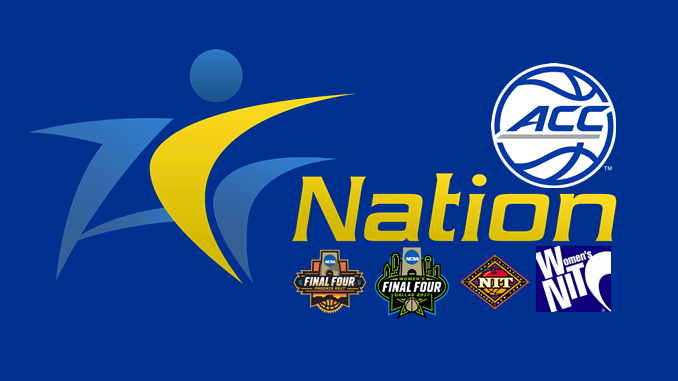 ACC Postseason Basketball
Men's And Women's NCAA, NIT And WNIT
The last few days have proven to be bit of an ugly run for ACC postseason basketball. Some of you may have a bit more descriptive terms that you're applying as you see your brackets crumble in front of you.
For those who still have a stomach for it, there's plenty of good news among the scorched Earth. It just might not be where you'd expect or want it to be.
The best (or worst) place to start will be with the NCAA Men's Tournament where the ACC started off on the wrong foot in the First Four.
#11 Kansas State over #11 Wake Forest  95-88
The Demon Deacons had built what appeared to be a decent postseason resume. The NCAA Selection Committee bought in while Kansas State wasn't interested in "what if's" and sent Wake Forest packing.
Unfortunately, that may have been a sign of things to come for ACC teams.
Next up, the First Round.
#8 Wisconsin dispatched #9 Virginia Tech  84-74
Hokie nation had something to cheer for in the 2016-2017 Buzz Williams team. It's apparent the program has turned the corner, some key pieces are still missing to take a deep run in postseason, though.
---
The Good, The Bad, Okay, It Was Just Ugly
---
Then came the ACC Valentine's Day Massacre. So, it wasn't on the actual day and some could argue about the massacre element. No one can deny that it was a bloody mess that struck deep into the heart of many a fan.
The Second Round, or that moment your bracket spontaneously combusted in your hands.
#2 Duke fell to #7 South Carolina  88-81
#2 Louisville knocked out by #7 Michigan  73-69
#3 Florida State overwhelmed by #11 Xavier  91-66
#5 Notre Dame rolled by #4 West Virginia  83-71
#5 Virginia (fill in your own adjective(s)) by #4 Florida  65-39
Not the best performances by ACC teams in postseason play by any stretch of the imagination.
So, who's left in men's NCAA action for the ACC? The #1 seed Tar Heels and their game against #8 Arkansas left a lot to be desired. But, let's give credit where credit is due. By toughing it out, North Carolina demonstrated a required credential to be a champion.
North Carolina moves on to face #4 Butler on Friday in Elite Eight action. The game is scheduled for Friday at 9:09p E on CBS.
---
The Saving Grace
---
ACC women's teams are faring much better in the NCAA Tournament than their brethren. Especially if they make it through this next landscape full of landmines.
First, where did we start?
The Second Round.
#3 Texas nipped #6 NC State  84-80
The difference between a #3 seed and a #6 seed in the women's tournament this season is day and night. The Wolfpack applied the same, "can do" mindset that saw them rise in the ACC and among Top 25 ranked teams this season. Texas is no stroll in the park.
The Schedule – Second Round
#8 Syracuse takes on #1 UConn  6:35p E Monday ESPN2
#2 Duke faces #10 Oregon  6:40p E Monday ESPN2
#4 Louisville vs #5 Tennessee  6:45p E Monday ESPN2
#4 Miami against #12 Quinnipiac  9:10p E Monday ESPN2
Third Round
#1 Notre Dame vs #5 Ohio State  Friday
#3 Florida State vs #2 Oregon State  Saturday
---
NIT 
---
The ACC began with three teams, including the top seed, in the men's NIT bracket.
The First Round.
#2 Clemson fell to #7 Oakland  74-69
Not a good showing for Clemson on their home court as the Tigers become the first ACC victim of lower seeded teams.
The Second Round.
#1 Syracuse drops out with a loss to #5 Ole Miss  85-80.
Unfortunately, for Cuse fans, this loss merely confirms why the team wasn't selected for the NCAA.
The Schedule
Who's left from the ACC? Georgia Tech, a #6 seed. The Yellow Jackets will now go toe to toe with #5 Ole Miss in the Quarterfinals.
The game, to be played in Atlanta, airs Tuesday at 9:00p E on ESPN2.
The winner will head to Madison Square Garden for the Semifinals.
---
WNIT
---
Four teams from the ACC made it into the WNIT Tournament and all made it through the first round.
The next series of matchups became a bit dicier.
The Second Round.
Virginia falls to James Madison  61-55
Wake Forest drops to MTSU  73-66
What do both of these games tell us? Virginia and Wake Forest should be teams to reckon with in the futre. Their unexpected rise at the end of this year gives us a snapshot of what could be in the '17-'18 season.
The Schedule – Third Round
Georgia Tech vs MTSU  Thursday 7:00p E
Virginia Tech at Penn St  Thursday 7:00p E
ACC Postseason Basketball may be over for a few teams but it's far from being over for the remaining teams.
We try not to be too partisan when it comes to teams in the conference. But, we're hoping that both North Carolina and Georgia Tech take the championships of the NCAA and NIT.
When it comes to women's action, the NCAA Tournament still looks strong for the ACC and here's to Georgia Tech and Virginia Tech advancing in the WNIT.