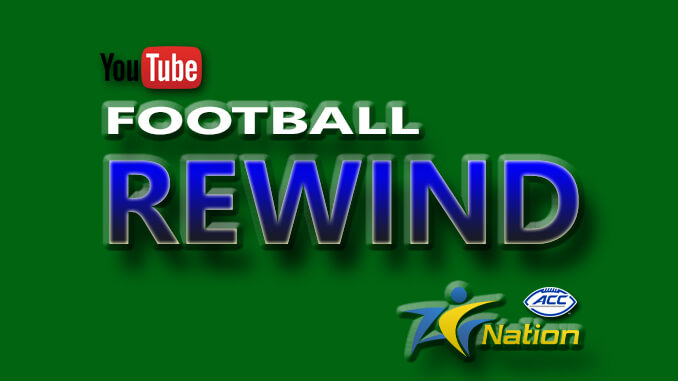 ACC Nation Rewind
Time once again to take a look back at all of the great head to head match ups from the weekend. We've got all the action in this week's ACC Nation Rewind.
The conference had some interesting games on the schedule but the biggest game pitted the ACC against Notre Dame. It wasn't exactly a replay of last year.
A full weekend of football kicked off on Friday night in Chestnut Hill as Florida State visited Boston College. Scroll down to replay the highlights.
There's another great weekend of games coming up but the number is smaller as quite a few teams have bye weeks. For now, let's hit play and look at the highlights on ACC Nation Rewind.
---
ACC Nation Rewind – The Tape Tells The Tale
---
This week's ACC Nation Rewind begins with the aforementioned Florida State – Boston College game. The Eagles delivered a well rounded game and continued to improve on offense. The Seminoles continue a surprising struggle to keep their heads above water.

Miami had their hands full with a struggling North Carolina that was dinged by four turnovers.

Wake Forest and Louisville spread out an offensive smorgasbord and kept the score keeper uber busy.

---
ACC Nation Rewind – Subscribe To The Podcast
---
Virginia headed to Heinz Field in search of locking in a bowl bid but ran into a hungry Panthers defense that made the most of turnovers.

NC State started out of the right foot but the relentless Notre Dame running game became too much as the clock ticked down.

Virginia Tech and Duke ended up doing the back stroke by the end of their rain soaked game. The Hokies defense and special teams were too much for the Blue Devils to overcome.

The refrain of rain, rain go away wasn't working for fans in Death Valley. Clemson and Georgia Tech players were seemingly hydroplaning across the field at times. The Tigers found their footing and kept the Yellow Jackets at bay.

---
ACC Nation Rewind – AP Top 25
---