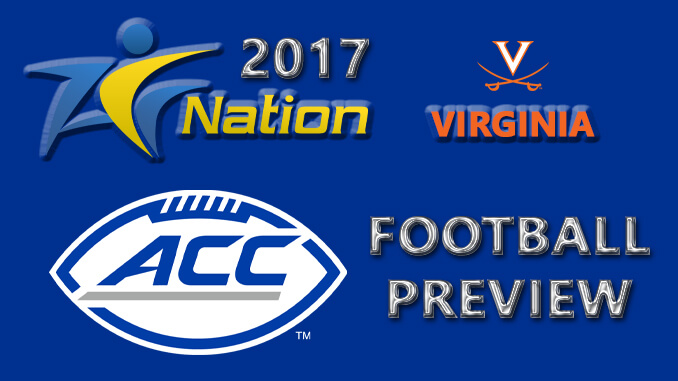 ACC Nation Football Preview – Virginia
Editor's note – It's kickoff week and no better time to take another look at all the teams in the ACC Nation Football Preview. Will Ojanen takes a look at a team that holds far more promise than last, the Virginia Cavaliers.
A tough 2-10 season was not what Bronco Mendenhall and Virginia Cavaliers fans expected out of last season. A season opening loss to Richmond was a rude awakening for the team and fan base. Logically, you would think year number two would go better.
---
ACC Nation Football Preview – Lots Of Questions
---
There are some questions on the offensive line, not only starters but reserves as well. Jake Fieler at center, Jack McDonald at guard, and Jack English at tackle are the only solid starters. The Cavs brought in Colin McGovern, a Notre Dame transfer, and Brandon Pertile, an Oklahoma State transfer, to compete. There is not a lot of experienced depth on this line, so any injury could make things shaky.
Virginia lost one of the best all around backs in ACC history in Taquan Mizzell. Also, a dependable backup in Albert Reid. Junior Jordan Ellis is the team's leading returning rusher. He rushed for 61 yards last season on 14 carries. Ellis looked great during the spring practices, and could get a lot of work. Behind him, senior Daniel Hamm carried the ball three times in all of last season. Look for freshmen Lamont Atkins and Jamari Peacock to be in the mix for some carries as well.
Quarterback Kurt Benkert returns after having an up and down season. In a two week stretch early in the season, Benkert threw for 757 yards in two games. That included a school record 421 against Central Michigan. But, he struggled the second half of the season. Benkert averaged just 164 yards over his final five games. There is no experienced depth behind Benkert. His backups are redshirt freshman De'Vante Cross and true freshman Lindell Stone.
The top two receivers from last season are back, however and that's a bright spot for the Cavaliers. Doni Dowling and Olamide Zaccheaus combined for 101 receptions last year. Again, there is not a ton of depth behind them. A name to watch here is sophomore Joe Reed. Reed, who is 6-3 and 210 pounds, could be a big play threat for the Hoos this year.
---
ACC Nation Football Preview – Virginia's Strength
---
While there are a lot of questions on offense, there aren't nearly as many on defense. Up front, Andrew Brown and Eli Hanback return. Brown was second on the team with six sacks. Hanback showed a lot of promise during a solid freshman campaign.
The linebacking corps features one of the top linebackers in the nation. Micah Kiser, led the ACC in tackles with 134, and the team with 6.5 sacks. Chris Peace and Jordan Mack played well in their first season seeing significant action. Senior Malcolm Cook will be ready to play after missing all of last season with an illness. This is probably the deepest part of the team.
Quin Blanding is a very familiar name nationally, as well he should be. He's regarded as one of the best safeties in the nation.  Blanding's been named to the All-ACC team twice in his career, and should be on it again this year. He finished the season second on the team (and the league) in tackles with 120. Moving Juan Thornhill to safety was a smart move by the defensive staff. He showed a lot of promise, and could be a ball hawk. He led the team in interceptions with three last season. With a year under his belt, Thornhill should be a lot better. At corner back, Tim Harris returns after missing most of last season with an injury. Bryce Hall is another player who showed some promise during his freshman season.
The kicking game cost Virginia quite a few games last season and it is still in flux this season. We will not know until the first game who will handle the kicking duties. The same will be the case for punter.
Virginia's defense should be good enough to keep them in some games. The development of the offense will truly determine how far this team goes.
---
ACC Nation Football Preview – Virginia Opens With William & Mary
---
The schedule isn't nearly as bad early, but is brutal at the end of the season. Virginia closes the season with road games against Louisville and Miami. Then they finish at home facing Virginia Tech, who they haven't beat since 2003. There is a legit chance Virginia could start the season 3-1, before heading in to conference play. Can the questions on offense be answered? If so, a six win season isn't out of the realm of possibility.