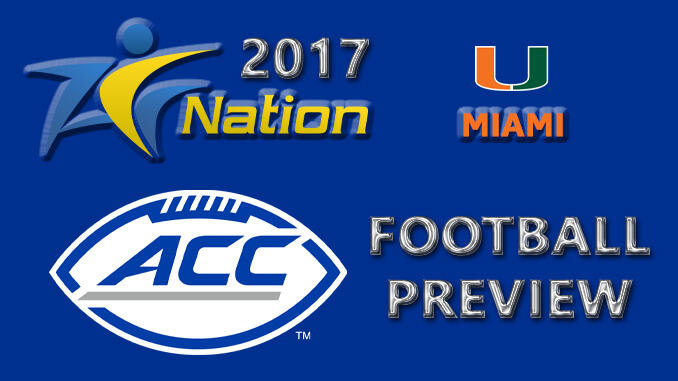 ACC Nation Football Preview
Editor's note – It's kickoff week and no better time to take another look at all the teams in the ACC Nation Football Preview. Chris Bond takes a look at a team with dreams of returning to their former glory, the Miami Hurricanes.
A week after suffering a stroke, Kimberly Rogers passed away from complications on March second of this year. It was nearly a month after her granddaughter
Ma'Lani Nicole Walton was born. The man that connects them both is Ma'Lani's father and Rogers son, 19 year old Mark Walton.
It was nearly 20 years ago when Jarrett Payton, the son of the late Walter Payton experienced a similar loss. His NFL Hall of Fame running back father passed away from cancer. From that day forward, Jarrett said he was carrying the ball for two for the remainder of his college career.
Fast forward to present day and Walton, also a running back at the same school will be carrying for three. His broad shoulders will be needed this season by his extended family as well. That extended family is the Miami Hurricanes football team. (2017 Miami Hurricanes Football

Schedule

)
---
ACC Nation Football Preview – Questions On Offense
---
Mark Richt is looking for a new signal caller to replace Brad Kaaya, the school's all time leading passer. The most likely candidate is junior Malik Rosier. Rosier started all of one game his freshman year for 17 of 29, netting 179 yards against Duke. When it comes to quarterback, experience and depth are not two words associated with the position with this season's roster.
Running backs are in a lot better state with the aforementioned Walton returning. Walton delivered over 1100 yards and there's plenty of talent to spell him.
That depth is found with the incoming Robert Burns.
A local standout from Miami Gulliver Prep, Burns has good size at 5'11" 210lbs. Burns splashed onto the recruiting scene with a solid sophomore campaign.
---
ACC Nation Podcast – Subscribe
---
Gulliver has been a pipeline for the Canes. The school has produced the likes of  Dionte Mullins, Joseph Jackson, Cedrick Wright and Sean Taylor. He's a power package that will start at number 3. I expect he'll take carries away from expected number 2, Travis Homer, a returning sophomore who made an impact himself last season with 6.3 yards a carry. Walton is the stud but the stable is full of thoroughbreds.
Helping those thoroughbreds get out of the barn will be the offensive line lead by senior center Nick Linder with four others totaling 86 career starts. Adding to the experience is LSU transfer George Brown completing a group that will only get better as they find a blocking rhythm while the season progresses.
After setting the school record twice for freshman receiving yards in a game, Ahmmon Richards comes back to lead the receiving corps. Fellow incoming sophomore Lawrence Cager will tandem with Darrell Langham to give the new signal caller a chance to throw to experienced targets.  Christopher Herndon will get first shot at replacing all world David Njoku at tight end. 
---
ACC Nation Football Preview – The Defense Delivers
---
Things get fun on the defensive side of the ball with a line that improved its run stopping by over 70 yards a game from 2015. The line returns 7 of 9 in the rotation including Joe Jackson who lead the team with 8.5 sacks from defensive end as a true freshman. Of note, Jackson still isn't slotted to be a starter which raises eyebrows. This unit was top 10 in the nation last season in tackles for loss and will be very nasty to handle in the fall.
Shaq Quarterman, Michael Pinckney, and Zack McCloud made an all freshman starting threesome at Linebacker not seen for some time. The defense went from giving up 28 points a game to 18 and they were a big part of it. By mid-season,  Quarterman was calling the defense on the field and is becoming the next great middle linebacker for the Canes in the tradition of Bernard Clark, Ray Lewis and Denzel Perryman. The linebacking trio are great in coverage and filling the run gaps. Combined with the front four they'll created a fearsome front seven.
The secondary could get picked on but not because of a lack of talent. Strong Safety Jaquan Johnson is the only one with starting experience. Malek Young and Jhavonte Dean are talented but inexperienced and they'll need to be coached up or quarterbacks will be targeting them often.
---
ACC Nation Football Preview – Doing A U
---
In his second year, Mark Richt is putting his stamp on the program as more and more of his recruits are taking over the roster. It's a proud and storied program. Richt was a player  when the program rose from giving away tickets at local Burger Kings in South Florida to fill seats. Then head coach, Howard Schellenberger declared everything south of interstate 4 as the sovereign state of Miami in 1980.  Then, five national titles later, the U was a name to be feared. Unfortunately, the last was in 2001, nearly a generation ago. Today's recruits aren't old enough to remember it.
I'm calling for the Canes to finish in the top 20, if not the top 10. Miami's schedule points to being favored in ten out of twelves games this season. Undoubtedly, they will fight for their division with Virginia Tech.
Mark Walton is ready for the fight. For dreams of his new daughter, his late mother, and his team.
---
 ACC Nation Football Preview