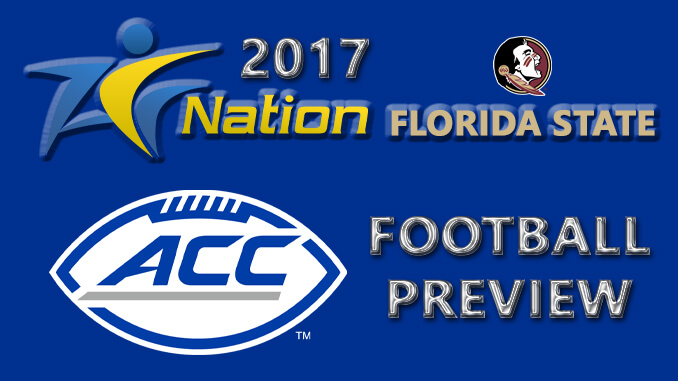 ACC Nation Football Preview
Editor's note – It's kickoff week and no better time to take another look at all the teams in the ACC Nation Football Preview. Chris Bond takes a look at a team that many expect to win the ACC and maybe a national championship, the Florida State Seminoles.
Deondre Francois may not be the best quarterback in the conference with Lamar Jackson lurking but he's certainly the toughest. 106th in sacks allowed with a whopping 36 in regular season games, Francois did it the hard way. Heisman Trophy winner Lamar Jackson sustained 47 sacks, most behind the line while scrambling. 
---
ACC Nation Football Preview – Seminoles Media Guide
---
 In Tallahassee, Jimbo Fisher runs a pro style offense. It often requires the signal caller to make tough throws in the pocket. When protection is spotty it means a redshirt freshman signal caller, such as Francois, needs to roll with the punches. Francois stepped up and performed beautifully.
How the FSU offense steps forward will ride on the line maturing from hard lessons learned last year. They'll have to do it fast. A hungry Alabama defensive line awaits in the first game.
The loss of two time All American tackle Rod Johnson, All ACC Guard Kareem Are and jack of all positions, Wilson Bell won't help. Overall, the unit brings back 57 starts.  If the Seminoles want to return to the playoffs, tackles Rich Leonard and Brock Ruble need to step up their pass blocking. Both Leonard and Ruble are strong when it comes to opening lanes. Keeping defenders off Francois is key to a well rounded offensive effort for the Seminoles.
---
---
If you're going to lose your best running back in program history one could hardly hope for better than Cameron Akers. With over 100 yards in the spring game he completely outclassed all other competitors at his position.
Jacques Patrick is just starting to come into his own and will be an adjustment for defenses with his power running to contrast Akers flash and dash style.
Big. FSU receivers are just that. The shortest starter is Da' Vante Phillips at 6'1″. It goes up with George Campbell at 6'4″ and Auden Tate, at 6'5″. They'll all have something to prove this season. Francois will have big targets and they'll be backed up by the likes of Nyquan Murray. Murray delivered two spectacular touchdowns and over 100 yards in the Orange Bowl against Michigan.  
Expect Jimbo Fisher to use
tight ends Ryan Izzo (6'5″, 245lbs) and Mavin Saunders (6'5″, 257lbs) more often this season. The Seminoles used the two-tight end set regularly in 2016 and it's a formation that could become a staple for the offense. That's if Fisher decides the smash-mouth approach best fits his team's personnel.
---
ACC Nation Football Preview – Defense
---
Where things get really interesting for the Seminoles is the defensive line. Eight of the top nine players from the front return. Demarcus Walker, along with his 16 sack season departed for the NFL but there's still plenty to be giddy about. Brian Burns as a freshman off the bench collected 9 sacks at defensive end. Burns will line up next to first team ACC tackle Derrick Nnadi. Demarcus Christmas will ring a few bells when he meets opposing running backs. Josh Sweat on the other edge at 250lbs is tough for offensive tackles to gage because of his first step burst.
If any position has had it's challenges in the Fisher era it's been the linebackers. From missing on coaching hires, injuries and players that just don't pan out, FSU hasn't had much luck with linebackers. That trend seems to be turning with Mathew Thomas coming into his own after finally playing a full healthy season. Ro'derrick Hoskins moved to the middle and flourished calling signals. With 14 healthy linebackers on the roster and most with experience this is a far from a weakness on this team.
The most storied section  in program history is the defensive backfield but this may be it's best ever. Derwin James is a big part of that. His combination of size, speed and strength make him dangerous on every part of the field. Also coming back Tarvarus McFadden, a first team All American corner. Trey Marshall locks down the strong safety position.
---
ACC Nation Football Preview – Special Teams
---
Place kicker, Ricky Aguayo and punter Logan Tyler had spotty performances last season as freshmen. Aguayo went 19 for 26 and Tyler's net average was 40 yards. There's room for improvement but both had moments last year where their potential shined.
Top to bottom this a squad poised for a playoff run. They certainly have the best odds of winning the ACC title. The defense will be tough to drive against. If there is improvement in pass protection, this team will a tough out. It's certainly conceivable to see them play Alabama in the first and last game of the year.
I'm calling for an 11-1 record. I think Florida State will win 2 out of 3 against the Tide, Clemson, and Florida. The first two games will be played out of state.
Fisher has been pointing to 2017 since 2014, the wait is over and it's showtime.
---
ACC Nation Football Preview
---