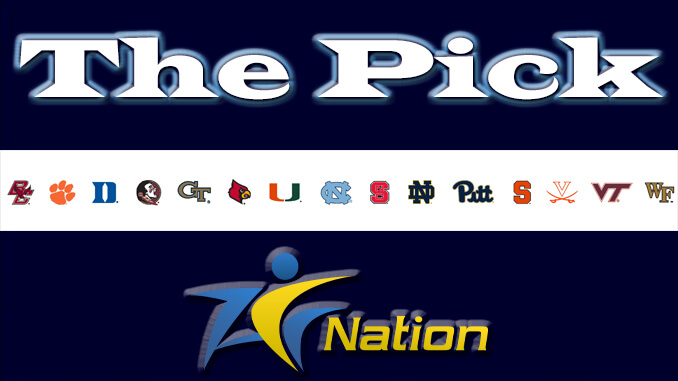 ACC Nation Football Picks
NCAA Football action is slipping into high gear as teams jockey for not only wins but also post season play. Whether that's through the College Football Playoffs or Bowls it's clear that the intensity of games has picked up. All the better for fans. Not always so great for those competing in The Pick.  This week's ACC Nation Football Picks certainly aren't any easier.
Last week had a limited number of games but the schedule kicks back into high gear this weekend. There are more to watch and that's never a bad thing.
The race for the top of The Pick intensifies as the top spot belongs to a new front runner.
If you're looking for more in-depth analysis of games, try the ACC Nation Podcast. Subscribe here for immediate access on your laptop, tablet or smartphone.
Let's take a look at ACC Nation Football Picks for conference teams and Notre Dame to see how our prognosticators fared.
---
ACC Nation Football Picks – Last Week
---
| | | | | |
| --- | --- | --- | --- | --- |
| GAME | WILL | CHRIS | XAYVEON | JIM |
| Syracuse at Florida State | FSU | FSU | SYR | SYR |
| Georgia Tech at Virginia | GT | UVA | GT | GT |
| Wake Forest at Notre Dame | ND | ND | ND | ND |
| Virginia Tech at Miami | VT | VT | MIA | VT |
| Clemson at NC State | CLEM | CLEM | CLEM | CLEM |
---
ACC Nation Football Picks – Power Poll
---
The Pick win this week goes to Chris with a 4-1.
The overall record puts Chris back into the lead with an overall record of 71-23, Jim drops into second at 70-24, Xayveon has third with a record of 69-25 and Will rounds out the prognosticators at 68-26.
---
ACC Nation Football Picks -This Week
---
| | | | | |
| --- | --- | --- | --- | --- |
| GAME | WILL | CHRIS | XAYVEON | JIM |
| North Carolina at Pitt | PITT | PITT | PITT | PITT |
| Duke at Army | ARMY | DUKE | DUKE | DUKE |
| NC State at Boston College | NC ST | NC ST | NC ST | NC ST |
| Virginia Tech at Georgia Tech | VT | VT | VT | VT |
| Wake Forest at Syracuse | SYR | SYR | WF | WF |
| Florida State at Clemson | CLEM | CLEM | CLEM | CLEM |
| Virginia at Louisville | LOU | UVA | UVA | LOU |
| Notre Dame at Miami | ND | ND | MIA | ND |
 


---
 ACC Nation Football Picks – Rewind
---
The schedule begins on Thursday with North Carolina traveling to Pitt. Across the board there is more confidence in the Panthers delivering a win in this match up.
Our first outlier raises it's head with the Duke at Army game. Will's not sold on Duke's performances over the past few games and perhaps feels that the slide continues against the Black Knights.
When it comes to the Eagles there's no doubt they've improved on the offensive side of the ball significantly. The Pick doesn't reflect that the improvement is enough to knock off one of the conferences top tier teams in NC State.
Though Virginia Tech stumbled, and some say badly against Miami, they too are a top tier team in the conference. The feeling here is that the Hokies have too much for the Yellow Jackets to handle. Georgia Tech isn't a Johnny come lately team and they have home field advantage. Virginia Tech better bring their 'A' game.
Our first of two 50-50 games is between Wake Forest and Syracuse. The fact that this is being played on the Orange home turf should give them the advantage. Perhaps that's what Will and Chris are thinking. Xayveon and Jim use a head to head comparison and believe the Demon Deacons just have a bit more in the tank.
---
ACC Nation Football Picks
---
In what was believed to have been the biggest game of the season in the ACC is quickly becoming a footnote without being played. Florida State ventures into Death Valley where Clemson wants to drip wax and seal that envelope so they can send it on the way.
Our second 50-50 involves Virginia at Louisville. Let's be blunt for a moment. Here's one team that is slowly getting it together and another that just can't seem to put the pieces together. Neither team is playing to their potential, at least not consistently.
Will and Jim go with Lamar Jackson and the home crowd. Chris and Xayveon have some faith in the upstarts out of Virginia.
Our final game and one with an outlier comes by way of Notre Dame and Miami. Xayveon isn't much of a Notre Dame fan and he's more than sold on Miami. In fact, among the four, he's been on board that Canes bandwagon since the start of the season. So while everyone else picks the Irish to put the brakes on the turnaround season for Miami, Xayveon goes (slightly and with a dull saw) out on a limb to take the Hurricanes.
---
ACC Nation Football Picks – AP Top 25