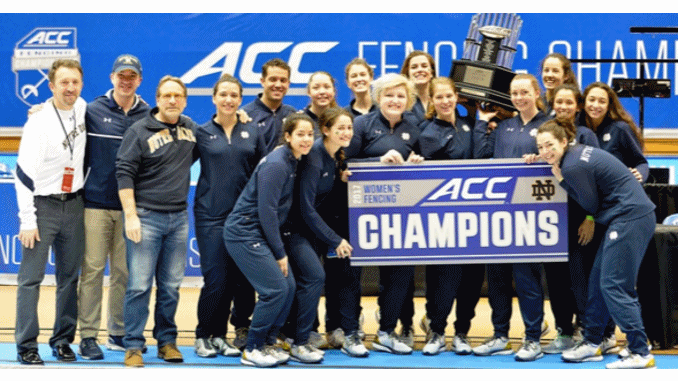 ACC Fencing Championships
Notre Dame men's and women's teams went 3-0  on their way to winning the ACC Fencing Championships.
The #4 ranked Irish men won the team competition title for the third straight year. It wasn't an easy road as they faced a determined Duke.
Notre Dame and the Blue Devils battled through a 12-12 tie that was broken after Axel Kiefer defeated Eoin Gronningsater. That gave the Irish the lead, 13-12.
Duke's Connor Ghazaleh took an early 4-2 lead over Dylan French in the final. French scored twice to make it 4-4 and then, in dramatic fashion, French won the deciding point to give Notre Dame the title.
The Irish epee squad finished 22-5, foil 20-7 and saber 17-10.
ACC Men's Individual Results
SABRE
Pascual Di Tella, Duke
Jonah Shainberg, Notre Dame
Agoston Walter, Duke
FOIL
Kristjan Archer, Notre Dame
Axel Kiefer, Notre Dame
Eoin Gronningsater, Duke
EPEE
Ariel Simmons, Notre Dame
Dylan French, Notre Dame
Bryn Hammarberg, Duke

The ACC Men's Fencing Championship Most Valuable Fencer honor goes to Ariel Simmons of Notre Dame.
The #3 ranked Notre Dame women had three decisive victories against opponents on their way to their third straight conference title.
Foil led the way for the women finishing 25-2. Saber was 19-8 and epee, 14-13.
ACC Women's Individual Results
SABER
Francesca Russo, Notre Dame
Lindsay Sapienza, Duke
Claudia Kulmacz, Notre Dame
EPEE
Amanda Sirico, Notre Dame
Rita Somogyi, Duke
Madeline Antekeier, Notre Dame
FOIL
Sabrina Massialas, Notre Dame
Lee Kiefer, Notre Dame
Samantha Viqueira, Notre Dame

The ACC Women's Fencing Championship Most Valuable Fencer honor goes to Sabrina Massialas of Notre Dame.
All four teams competing in the ACC Championships, Notre Dame, Duke, North Carolina and Boston College, will move on to NCAA regional competition.
The NCAA Fencing Championships are set for March 23-26 in Indianapolis.