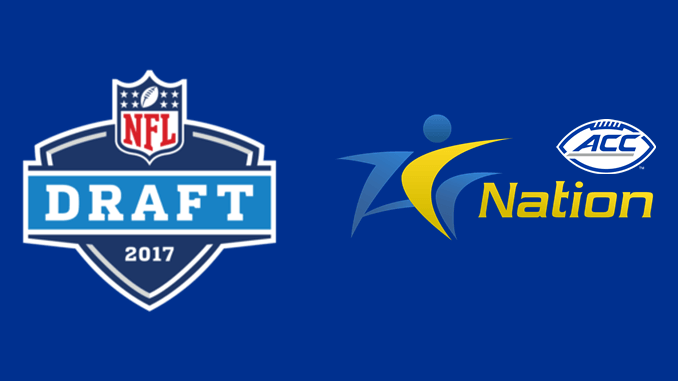 2017 NFL Draft Special Eligibility
2017 NFL Draft Special Eligibility to seventeen players from the ACC and Notre Dame who have met the league's three year rule. These players have also renounced their remaining college eligibility.
An additional five players, who are graduates but still have college eligibility, are available to be drafted, too.
Eight players met the graduate status.
Ninety five players came under the three year designation.
The larger list is one less than in 2016. The highest year was 2014 in which ninety eight players entered the draft under this provision.
GRADUATE LIST
Wayne Gallman, RB, Clemson

Bucky Hodges, TE, Virginia Tech
Artavis Scott, WR, Clemson
Deshaun Watson, QB, Clemson
Mike Williams, WR, Clemson
THREE YEAR ELIGIBILITY
James Conner, RB, Pitt

Dalvin Cook, RB, Florida State
Jerod Evans, QB, Virginia Tech
Tarean Folston, RB, Notre Dame
Isaiah Ford, WR, Virginia Tech
Jermaine Grace, LB, Miami
Elijah Hood, RB, North Carolina
Roderick Johnson, T, Florida State
Josh Jones, DB, NC State
Nazair Jones, DT, North Carolina
Brad Kaaya, QB, Miami
DeShone Kizer, QB, Notre Dame
Al-Quadin Muhammad, DE, Miami
David Njoku, TE, Miami
Travis Rudolph, WR, Florida State
Mitch Trubisky, QB, North Carolina
Joseph Yearby, RB, Miami
Here is the complete list of college players seeking eligibility in the 2017 NFL Draft.
The draft is set for April 27-29 and will be held in Philadelphia.